Treatment of colorectal liver metastases
World Journal of Surgical Oncology
2011
9:154
Received: 28 September 2011
Accepted: 24 November 2011
Published: 24 November 2011
Abstract
Colorectal cancer (CRC) is the third most common cancer in the word. Liver metastasis is the most common site of colorectal metastases. The prognosis of resectable colorectal liver metastases (CRLM) was improved in the recent years with the consideration of chemotherapy and surgical resection as part of the multidisciplinary management of the disease; the current 5-year survival rates after resection of liver metastases are 25% to 40%. Resectable synchronous or metachronous liver metastases should be treated with perioperative chemotherapy based on three months of FOLFOX4 (5-fluorouracil [5FU], folinic acid [LV], and oxaliplatin) chemotherapy before surgery and three months after surgery. In the case of primary surgery, pseudo-adjuvant chemotherapy for 6 months, based on 5FU/LV, FOLFOX4, XELOX (capecitabine and oxaliplatin) or FOLFIRI (5FU/LV and irinotecan), should be indicated. In potentially resectable disease, primary chemotherapy based on more intensive regimens such as FOLFIRINOX (5FU/LV, irinotecan and oxaliplatin) should be considered to enhance the chance of cure. The palliative chemotherapy based on FOLFIRI, or FOLFOX4/XELOX with or without targeted therapies, is the mainstay treatment of unresectable disease. This review would provide additional insight into the problem of optimal integration of chemotherapy and surgery in the management of CRLM.
Keywords
Overall SurvivalBevacizumabLiver MetastasisOxaliplatinCetuximab
Background
Colorectal cancer (CRC) is the third most commonly diagnosed cancer in males and the second in females. It is the second most deathly cancer worldwide. About 1.2 million new cases and 608,700 deaths were reported to have occurred in 2008. However, the mortality rates have been decreasing dramatically in western countries largely resulting from improved treatment and increased awareness and early detection [1].
Liver is the most common site of metastasis from colorectal cancers (50-60% of the cases). Close to one third of patients have liver metastases either at the time of diagnosis (synchronous in 1/3 of the cases) or during the disease course (metachronous in 2/3 of the cases).
The prognosis of colorectal liver metastases (CRLM) has improved in the last few years. Surgical resection of liver metastases is considered the only curative treatment option for patients with resectable liver metastases and no extrahepatic disease [2, 3]. Five years survival has increased from <8%, using palliative chemotherapy (CT), to 25-40% using multimodal management including CT and surgery [1, 2, 4–7]
Liver metastases are resectable in only 15% of the cases. Eighty five percents of the patients are ineligible to surgery because of the location, the size, the number of liver metastases, the residual normal liver, and the extra hepatic disease [2, 8]. After primary surgery, the rate of relapse is high. This has led the investigators to evaluate the role of neoadjuvant and adjuvant CT in the management of these patients [9]. Furthermore, neoadjuvant CT is being increasingly used to downsize CRLM and render 10% to 30% of initially unresectable patients potentially resectable [8, 10]. Local hepatic arterial infusion (HAI) CT after liver resection has proved to be effective; however, this technique is not widely used, because of concern of complications and the technical difficulties [11–13].
In general, the term neoadjuvant is used when the CT treatment is given preoperatively, adjuvant when the CT treatment is given postoperatively, and perioperative when the CT treatment is given both before and after surgery.
Limited data analyzed the role of targeted therapies (Bevacizumab and Cetuximab) in preoperative setting. The predictor factors such as K-RAS are crucial before the indication of optimal targeted therapy.
The present paper aimed to review the current data evaluating the role of preoperative, adjuvant, and perioperative CT in the management of CRLM.
Conclusion
The prognosis of patients with metastatic colorectal cancer of the liver has improved significantly over the last few years (Figure
3
). The management has become multidisciplinary using modern CT regimens and more developed surgical techniques. For patients with resectable metastases, perioperative CT based on FOLFOX4 is the treatment of choice before surgical resection according to the results of the EORTC40983 randomized trial. For patient with resectable metastases treated with primary surgery, adjuvant CT is a reasonable option. In the case of initially unresectable disease, conversion CT using more active combination such as FOLFIRINOX should be indicated to downsizing liver metastases and to optimize the chance of cure. If metastases are unresectable and unlikely to be resectable, palliative CT with or without targeted agents is the mainstay treatment. The role of targeted therapy in neoadjuvant setting will be defined in the near future. Therapeutic investigations should be continued with the development of more efficient regimens, newer surgical and ablative techniques, to improve treatment results of colorectal liver metastases.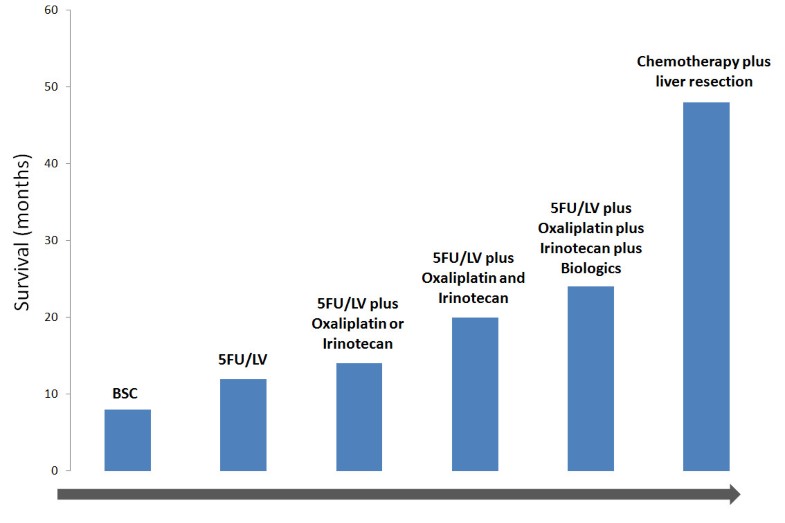 Abbreviations
CRC :

colorectal cancer
CRLM :

colorectal liver metastases
CRR :

complete response rate
CT :

chemotherapy
EGFR :

epidermal growth factor receptor
5FU :

5-fluorouracil
ORR :

overall response rate
OS :

overall survival
PFS :

progression free survival (or disease free survival)
VEGF :

vascular endothelial growth factor.
Declarations
Acknowledgements
We sincerely thank Mohammed Ismaili, Professor of Microbiology from Moulay Ismail University, Meknes, Morocco.
Authors' Affiliations
(1)
Department of medical oncology, Regional cancer center, Hassan II Hospital, Agadir, Morocco
Copyright
© Ismaili; licensee BioMed Central Ltd. 2011
This article is published under license to BioMed Central Ltd. This is an Open Access article distributed under the terms of the Creative Commons Attribution License (http://creativecommons.org/licenses/by/2.0), which permits unrestricted use, distribution, and reproduction in any medium, provided the original work is properly cited.