Indications and recommended approach for surgical intervention of metastatic disease to the gallbladder
World Journal of Surgical Oncology
2010
8:80
Received: 23 May 2010
Accepted: 10 September 2010
Published: 10 September 2010
Abstract
Metastatic disease to the gallbladder is unusual. The most common malignancy metastatic to the gallbladder is melanoma, followed by renal cell carcinoma (RCC) and breast cancer. Due to the unusual nature of the disease, there are no trials available for review. Thus, the management for these patients has been based on institutional experience and review of case series. The indications for surgical intervention for melanoma are metastatic disease discrete to the gallbladder and biliary symptoms, which are uncommon for melanoma, but might occur due to cystic duct obstruction culminating in cholecystitis. Laparoscopic cholecystectomy without a lymphadenectomy is emerging as the preferred approach for this metastatic deposit. The vast majority of patients with metastases to the gallbladder from RCC carry a good prognosis and a laparoscopic cholecystectomy should be considered. Patients with metastases to the gallbladder from the breast classically present with biliary symptoms and commonly undergo a laparoscopic cholecystectomy, which invariably demonstrates a deposit in the gallbladder from lobular breast cancer. In the present report, we review the indications for surgical intervention from various malignancies metastatic to the gallbladder and the current consensus for the laparoscopic approach from the diverse metastatic deposits to the gallbladder.
Keywords
Melanoma
Renal Cell Carcinoma
Laparoscopic Cholecystectomy
Cholecystitis
Metastatic Melanoma
Metastasis to the Gallbladder
An autopsy analysis of 1,000 consecutive cases of malignancies revealed an incidence of metastasis to the gallbladder of 5.8% [1]. By comparison, the incidence of metastasis to the most common organs was 49.5%, 49.4%, and 46.5% for abdominal lymph nodes, liver and lungs respectively. Thus, metastatic disease to the gallbladder is relatively rare.
In a Korean report, 20 cases of metastasis to the gallbladder were discussed [2]. The most common source of metastasis was direct invasion from intra-abdominal cancers including colon and gastric malignancies. However, the country of origin of this report, where gastric cancer has high prevalence, limits any generalizations from this series.
In our review of the literature, because the typical course of metastasis to the gallbladder is via hematogenous spread [3], the most commonly metastatic disease to the gallbladder was from melanoma followed by renal cell carcinoma and then breast cancer. Other cancers that have been reported, we have grouped in the miscellaneous category.
In the present review, we discuss whether surgical intervention has the same recommendations for a metastatic deposit from melanoma compared to breast cancer. We also interrogate the role of laparoscopic cholecystectomy in such approach. A discussion of a case in our own experience is a pertinent good start.
Case Report
A 53 year-old man referred to the surgical oncology clinic after an episode of abdominal pain that revealed an isolated right liver lobe mass (Figure
1
), which subsequently demonstrated melanoma on biopsy. Sixteen years previously, he had undergone resection of a facial melanoma. In view of the patient's excellent performance status, long latency from primary lesion and limited metastatic disease, he underwent aggressive loco-regional treatment. A metastasectomy was attempted for liver lesion. However, intra-operatively the tumor burden was substantial such that a safe operation for cure could not be undertaken. Additionally, in subsequent studies he had lung and brain metastases, for which he received systemic therapy including high dose interleukin-2 and chemotherapy consisting of cisplatin, dacarbizine, vinblastine followed by temozolomide.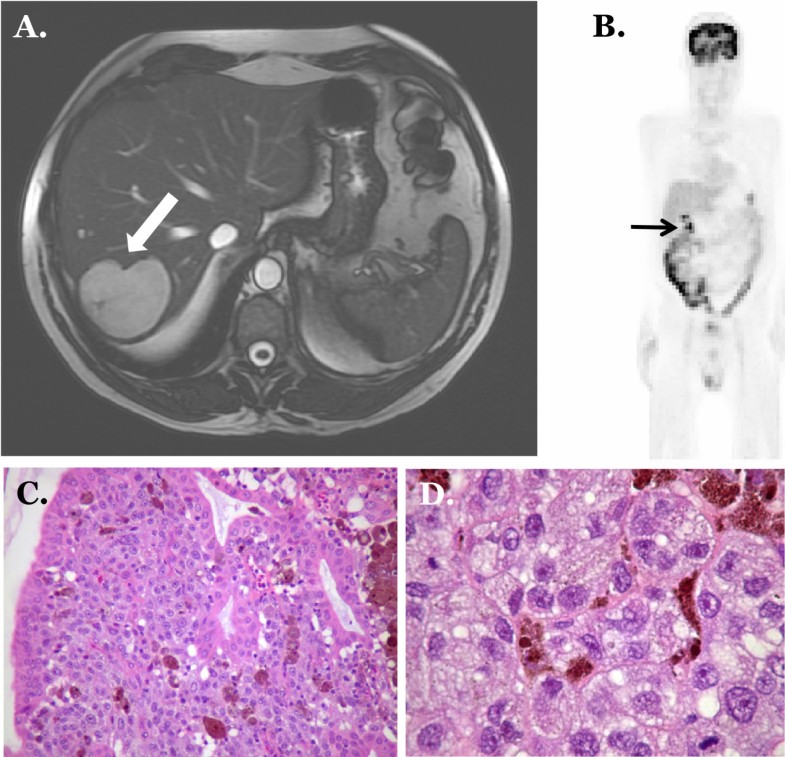 He had a good response to these modalities to the point of complete regression of the liver and lung lesions as assessed by Positron Emission Tomography (PET) scan. During the same examination, a new gallbladder lesion that had high uptake was identified (Figure 1; panel B). He underwent open cholecystectomy. Gross exam revealed an obvious dark-pigmented lesion 4.8 × 2.6 × 2.2 cm in dimensions. No gallstones were identified. Microscopic examination from this lesion confirmed metastatic melanoma to gallbladder mucosa with all margins free of tumor (Figure 1; panels C & D). An additional 5.8 × 3.7 × 2.5 cm peri-portal focus of melanoma was also identified and resected. The patient made an uneventful post-operative recovery. However, he subsequently progressed with widely metastatic disease in the central nervous system and died four months after surgical intervention for the gallbladder.
Discussion and review of the literature
Conclusions
Metastatic melanoma is the most commonly found deposit in the gallbladder. Clear indications for surgical intervention are disease limited to the gallbladder and symptomatic disease for palliation. Laparoscopic cholecystectomy without a lymphadenectomy appears to be the most consensus agreement in the literature. Other cases for metastatic melanoma to the gallbladder must be addressed in a case-to-case basis. RCC metastatic to the gallbladder appears to have a good prognosis for cure and most of these cases necessitate a cholecystectomy, which might be approached laparoscopically. Patients with metastatic breast cancer to the gallbladder are women who typically present with symptoms and a history of lobular breast cancer. Because of symptomatic disease, a cholecystectomy is invariably the rule and this can be approached laparoscopically. Metastatic disease from other malignancies should be addressed in a case-to-case basis.
Consent
Consent for patient in the case report was obtained from the family of the deceased.
Authors' Affiliations
(1)
Department of Surgery, UT Southwestern Medical Center, Dallas, USA
(2)
Department of Pathology, UT Southwestern Medical Center, Dallas, USA
Copyright
© Khan et al; licensee BioMed Central Ltd. 2010
This article is published under license to BioMed Central Ltd. This is an Open Access article distributed under the terms of the Creative Commons Attribution License (http://creativecommons.org/licenses/by/2.0), which permits unrestricted use, distribution, and reproduction in any medium, provided the original work is properly cited.