Gastrointestinal stromal tumor
World Journal of Surgical Oncology
2009
7:61
Received: 06 April 2009
Accepted: 01 August 2009
Published: 01 August 2009
Abstract
Background
GISTs are a subset of mesenchymal tumors and represent the most common mesenchymal neoplasms of GI tract. However, GIST is a recently recognized tumor entity and the literature on these stromal tumors has rapidly expanded.
Methods
An extensive review of the literature was carried out in both online medical journals and through Athens University Medical library. An extensive literature search for papers published up to 2009 was performed, using as key words, GIST, Cajal's cells, treatment, Imatinib, KIT, review of each study were conducted, and data were abstracted.
Results
GIST has recently been suggested that is originated from the multipotential mesenchymal stem cells. It is estimated that the incidence of GIST is approximately 10-20 per million people, per year.
Conclusion
The clinical presentation of GIST is variable but the most usual symptoms include the presence of a mass or bleeding. Surgical resection of the local disease is the mainstay therapy. However, therapeutic agents, such as Imatinib have now been approved for the treatment of advanced GISTs and others, such as everolimus, rapamycin, heat shock protein 90 and IGF are in trial stage demonstrate promising results for the management of GISTs.
Keywords
ImatinibGastrointestinal Stromal TumorMitotic CountGist PatientGastric GISTs
Background
GISTs (Gastrointestinal tumors) are a subset of mesenchymal tumors and represent the most common mesenchymal neoplasms of GI (Gastrointestinal) tract. Gastrointestinal stromal tumors are KIT-expressing and KIT (tyrosine kinase receptor - CD117)-signaling driven mesenchymal tumors. Many GIST tumors have an activating mutation in either KIT or PDGFRα (Platelet-Derived Growth Factor Receptor Alpha) [1]. They account for <1% of all GI tumors. Their origin was at first attributed to Cajal's cells, in mesodermal tissue but it has nowadays been recognized that GISTs arise from multipotential mesenchymal stem cells [2]. However, GIST is a newly recognized tumor entity but the literature on these stromal tumors has swiftly expanded. In the past, these tumors were presumed to have elements of smooth muscle (smooth muscle origin), so they were classified as leiomyomas, leiomyosarcomas and leiomyoblastomas [3]. The term was first coined by Mazur and Clark, in 1983, in order to describe a heterogeneous group of gastrointestinal non-epithelial neoplasms. In 1998, Hirota reported that GISTs contained activating c-kit mutations, which play a central role in its pathogenesis [4]. Furthermore, GISTs express CD34 (cluster designation 34) and the KIT on their surface [5]. The origin of these tumors explicates their resistance to cancer chemotherapy. Moreover, it was their origin that lead to the introduction of a chemotherapeutic regimen, imatinib mesylate, a tyrosine kinase inhibitor for c-kit. GISTs are, finally, defined as pleomorphic mesenchymal tumors of the GI tract that express the KIT protein (CD 117- Protooncogene that encodes the transmembrane tyrosine kinase receptor CD 117 detected by flow cytometry in most cases of acute myeloid leukemia, in small numbers of T- and B-lymphoblastic lymphomas, and in some gastrointestinal stromal tumors - stem cell factor receptor) and often also CD34 (human progenitor cell antigen) on immunohistochemistry [6].
Conclusion
Gastrointestinal stromal tumors (GISTs) are the most common mesenchymal tumors of the GI system. In most cases, GISTs are characterized by gain-of-function mutations in the
KIT
proto-oncogene, most commonly involving exon 11, less frequently involving exon 9, and rarely involving exons 13 or 17 [
66
]. In GISTs without
KIT
mutations, gain-of-function mutations may occur in the platelet-derived growth factor receptor α (PDGFRα) gene, thereby providing an alternative oncogenic mechanism [
67
] GISTs' incidence, although rare, is on the rise, because of the improved diagnostic modalities, which offer accuracy [
2
]. The treatment of choice for primary GISTs remains complete surgical resection [
20
]. Imatinib mesylate is an oral tyrosine kinase inhibitor that has dramatically changed GIST therapy. This drug inhibits the KIT and PDGFRα tyrosine kinases as well as other members of the type III group of tyrosine kinases [
68
,
69
]. However, after the introduction of molecular targeted therapy with Imatinib, treatment of metastatic or recurrent GISTs is more effective and the survival rate has improved impressively [
26
]. Gastric GISTs are more common than small bowel GISTs. Patients with malignant gastric GISTs have a significantly better prognosis than patients with malignant small bowel GISTs. A statistically significant correlation was found between age and malignant potential of the GIST, by a recent study [
70
]. Though, the treatment of primary GIST is complete gross surgical resection, it is reasonable to consider to administer Imatinib mesylate as a preoperative therapy in localized bulky tumors, given its expected high response rate, as shown in a metastatic setting [
5
]. Surgical resection remains the mainstay of treatment. A formal indication to primary Imatinib in all cases of localized unresectable GIST had already been provided and it is consistently proposed by all available guidelines. Nevertheless the resectability of a tumor is hard to standardize and often considered surgeon dependent. It would, therefore, be rather difficult to list criteria universally acceptable for unresectable disease in order to provide formal indications to a preoperative treatment [
71
]. Figure
1
describes GIST treatment in revision. It is well known that the major predictive factor for tumor response to IM (Imatinib mesylate) therapy is mutational status. Ideally, it should be taken into account to select the patients who are more likely to benefit from the preoperative treatment. Nevertheless it may be difficult to assess at the decision time point. Moreover, tumor shrinkage could be observed even in cases with less favorable KIT/PDGFRα mutational status, with an overall median tumor reduction of 34%. Given the limited sample size, the extent of tumor shrinkage could not be correlated either to mutational status or to other clinical features, such as tumor site, initial tumor size, imatinib duration, and extent of pathologic response. In light of these results the presence of a less sensitive mutation like Exon 9 or of a wild-type KIT/PDGFRα mutational status should not be considered per se a contraindication to a preoperative treatment, the only exception being those point mutations with known complete resistance (i.e. D842V in Exon 18 on PDGRα gene). The only precaution is to strictly monitor the response, by early PET/TAC re-evaluation [
72
].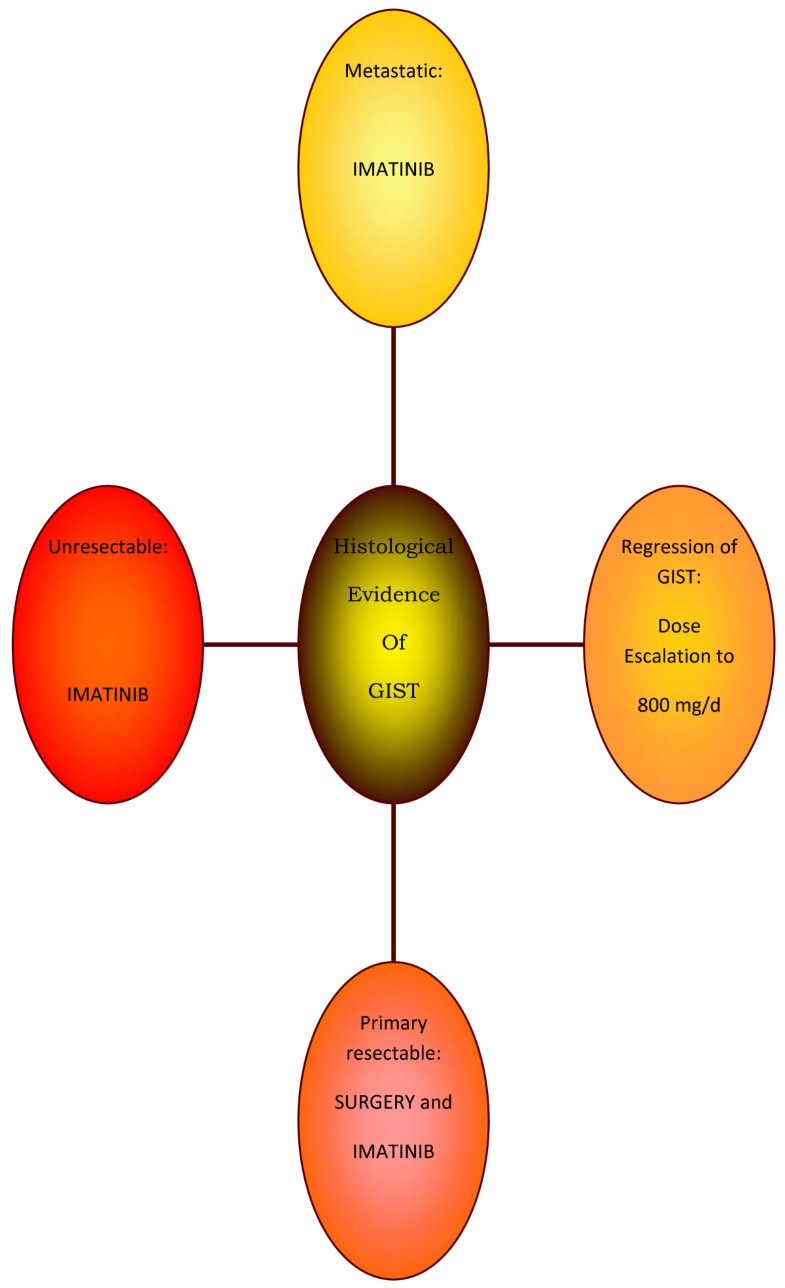 Authors' Affiliations
(1)
4th Department of Surgery, University of Athens, School of Medicine, Attikon General Hospital, Athens, Greece
(2)
3rd Department of Critical Care, Athens University, Eugenidion Hospital, Athens, Greece
(3)
Department of Pathology, School of Medicine, University of Athens, Greece
Copyright
© Stamatakos et al; licensee BioMed Central Ltd. 2009
This article is published under license to BioMed Central Ltd. This is an Open Access article distributed under the terms of the Creative Commons Attribution License (http://creativecommons.org/licenses/by/2.0), which permits unrestricted use, distribution, and reproduction in any medium, provided the original work is properly cited.