Optimising surgical management of elderly cancer patients
World Journal of Surgical Oncology
2005
3:17
Received: 14 September 2004
Accepted: 23 March 2005
Published: 23 March 2005
Abstract
Background
Elderly population is on rise. It is an ethical dilemma how aggressive one should be when it comes to treat cancer in elderly. Presumed fear of increased postoperative morbidity and mortality has resulted in delivery of sub-optimal cancer surgery.
Methods
In this review article we visit physiology of the aged, tools available to assess surgical risks in oncogeriatric patients, and current practice in the management of common cancers encountered in surgical oncology, with the view of increasing awareness on optimising surgical management of senior patients with cancer. A pubmed search for cancer, surgery, elderly, was carried out.
Results
Cancer is on rise with increasing age predominantly affecting breast, gastrointestinal tract and lung. Increasingly more surgeons are offering surgery to elderly cancer patient but selection bias is prevalent. Available data reflect short and long-term outcome of cancer surgery in elderly is not greatly different to that of younger patient. Declining physiological reserve along with inability to respond adequately to physiological stress are salient age related changes. C omprehensive G eriatric A ssessment (CGA) is not tested in surgical patient. There is need for a tool to define individualised operative risk. Preoperative assessment of cancer in elderly is designed to offer this information based on functional status of an individual utilising currently available tools of risk assessment.
Conclusion
All elderly cancer patients should be offered optimal treatment depending on their functional status not on chronological age. Oncogeriatric patient would benefit from dedicated multidisciplinary approach. Recruitment of elderly cancer patients to more clinical trials is needed to enhance our knowledge and to offer optimum treatment to this unique subgroup.
Keywords
Gastric Cancer
Melanoma
Rectal Cancer
Total Mesorectal Excision
Oesophageal Cancer
Background
The geriatric population is expanding, and hence the clinical decision making are often confused by effects of ageing. Age should not be the only parameter considered when addressing a medical problem [
1
]. There is much evidence that the booming elderly population with cancer does not receive potentially curative treatment afforded to younger cancer patient [
2
]. Recently there has been a rise in the number of articles published related to neoplasm, surgery and elderly [
2
]. Several series have proven more and more surgeons are auditing and publishing their experience in management of onco-geriatrics. This raising interest is summarised in Figure
1
.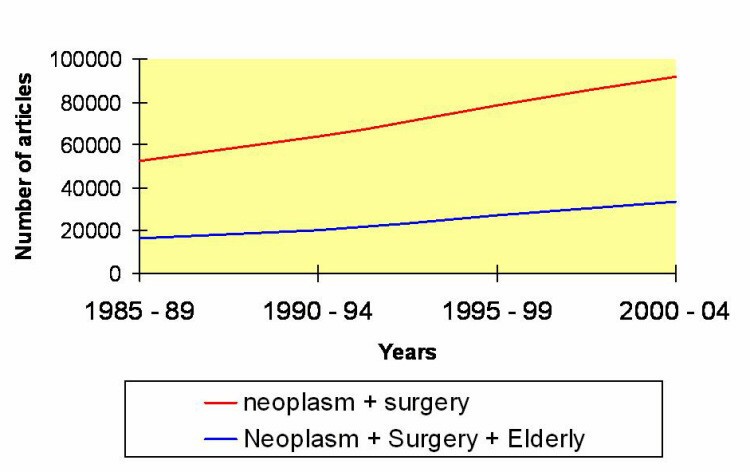 No significant difference in postoperative mortality and long term survival has been demonstrated, although a slightly higher morbidity between younger patients receiving surgical management was detected [2]. However, one might suspect a selection bias in these series. This highlights the need for prospective data collection, including co-morbidities and patient selection. Outcome of elective cancer operations in elderly could be improved by taking utmost care around peri-operative period.
In this overview we raise the concern of epidemiological changes and population dynamics, revisit physiology of aged, look into currently available instruments to assess physiology and functional status of elderly oncological patients, trends in specific organ cancers and their current treatment. Projected epidemiological data of population changes in coming years, cancer prevalence in this subset of population, and current literatures regarding management of cancers in elderly, if any, is persuasive enough to demand for a change. The priority of this issue is to increase awareness among the medical community and stimulate a debate about the urge to update the overall management of elderly oncology patient differently. Complete management of cancer in this population, and their eventual outcome, could be improved by specialist onco-geriatric multidisciplinary team. Preparing medical community to deal with this impending epidemiological time bomb is discussed.
Conclusion
Surgeons will have to deal with increasing cancers in elderly. Current treatment practices in elderly are based on experience gained from retrospective series and reviews. An attempt to transfer the results of younger patients to this heterogeneous population should be discouraged. Better understanding of our knowledge about this unique age group could be achieved by encouraging active participation in clinical trials and education of medical community. The very finely balanced physiological resources in elderly cancer patients, demands extreme care around pre- and peri-operative. The cost of treatment of cancer in elderly is no expensive than those in younger patient. The enthusiasm to offer cancer treatment to selected oncogeriatric patients in par with young, a practice prevalent among minority of medical community should hence forth not only include oncogeriatric community without selection bias but also spread to wider medical community members. A currently ongoing multinational trial (PACE) is aimed at overcoming this selection bias and assist treating physician to make informed decision about optimum treatment in discussion with patient. Oncogeriatric patients would benefit from complete care with active participation of multi-disciplinary team comprising of Surgeons with special interest in geriatric cancer surgery, Geriatricians, Geriatric oncologists, Anaesthetist with interest in geriatric anaesthesiology and social worker. Further research into tailored treatment of elderly cancer patient from the time of preoperative evaluation to and including optimum surgery for individual cancers and adjuvant therapy is needed.
A look at the future
Improvement in care of oncogeriatric subgroup comes with better understanding of elderly cancer patients by recruiting them into specifically designed clinical trials. Changing the attitude of treating surgeons towards the elderly with cancer comes with widening our knowledge. The benefit of technological advancement should percolate to elderly to improve their quality of life aside long-term survival. The benefit of advancements in science like early detection of cancers, improvement in anaesthetic techniques, and surgical techniques, should be extended based on individual merits independent of age. It is the responsibility of today's doctors to train future generations to offer treatment without age bias but on individual merits. This could be achieved by bringing gerontology in par with paediatrics to class room teaching. Proactive participation of practising doctors and up coming surgeons in ongoing national and international educational and scientific meetings should be encouraged.
Conflict of interest
The author(s) declare that they have no competing interests.
Authors' Affiliations
(1)
Department of Surgery, Whiston Hospital, Prescot, UK
(2)
University of Liverpool, Liverpool, UK
(3)
European Institute of Oncology, Milan, Italy
(4)
Dept. of Surgery, Whiston Hospital, Prescot, UK & University of Liverpool, Liverpool, UK
Copyright
© Ramesh et al; licensee BioMed Central Ltd. 2005
This article is published under license to BioMed Central Ltd. This is an Open Access article distributed under the terms of the Creative Commons Attribution License (http://creativecommons.org/licenses/by/2.0), which permits unrestricted use, distribution, and reproduction in any medium, provided the original work is properly cited.