Anti-NMDAR limbic encephalitis- a clinical curiosity
World Journal of Surgical Oncology
2014
12:256
Received: 15 October 2013
Accepted: 20 July 2014
Published: 9 August 2014
Abstract
Background
Neurological paraneoplastic syndromes are rarely the first manifestation of an underlying cancer. A high index of suspicion is thus needed to diagnose such conditions. Paraneoplastic limbic encephalitis is one such entity which is well described in association with small cell lung cancers, testicular germ cell tumors, breast cancers and ovarian tumors. This article describes the entity being associated with an ovarian tumor.
Case
A 36-year-old female presented with abnormal behaviour, mood swings and delusions. She was evaluated for her psychiatric symptoms and found to have an underlying ovarian tumor. Anti-NMDA receptor titers were strongly positive. She underwent oophorectomy, and post-operatively there was a significant improvement in her psychiatric symptoms.
Conclusions
Ovarian tumors like teratomas are implicated in the pathogenesis of paraneoplastic limbic encephalitis. An underlying ovarian tumor must be evaluated in all young females presenting with sudden onset of psychiatric symptoms.
Keywords
ParaneoplasticLimbic encephalitisAnti-NMDAOvarian teratoma
Background
Paraneoplastic limbic encephalitis (PLE) was first described by Corsellis et al.[1]. This entity was initially described in association with brainstem dysfunction affecting older individuals with lung cancer. Subsequent studies, however, have defined PLE in association with germ-cell tumors with dominant limbic, diencephalic and upper brainstem dysfunction [2]. Anti-N-methyl-D-aspartic (NMDA) receptor (NMDAR) encephalitis is one such acute, and a potentially lethal, form of limbic encephalitis. It was described as a distinct disease entity by Dalmau et al. in 2006. More than half of the cases described have a paraneoplastic association with tumors, especially ovarian teratomas [3]. The frequency of this disorder is largely unknown [4].
Case presentation
A 36-year-old married female with no comorbidities presented with a history of abnormal behaviour of five weeks which included mood liability (laughing/crying spells), delusions of persecution (feeling that other people were trying to harm her), irritability and occasions of talking to herself. She also had urinary and fecal incontinence. For these complaints, she was shown to a psychiatrist, who evaluated her and started her on anti-psychotic drugs. However, even with adequate doses of medications, the symptoms worsened. An organic brain pathology was therefore suspected, and she was referred to a neurologist. Blood tests, which included tests for serum electrolytes, viral markers, thyroid profile and anti-phospholipid antibodies (APLA), anti-nuclear antibodies (ANA) and anti-nuclear cytoplasmic antibodies (ANCA) were normal. A magnetic resonance imaging (MRI) brain scan and an electroencephalogram (EEG) were also normal. However, anti-NMDA antibody titers were strongly positive.
Thus, a diagnosis of anti-NMDA autoimmune encephalitis was made. She was started on steroids at a dose of 1 g/day. However, symptomatic improvement was minimal. A paraneoplastic association was suspected, and a computerized tomography (CT) scan of her abdomen was done which showed a 8.3 × 6.9 × 5.3 cm heterodense lesion arising from her right ovary with calcification suggestive of a dermoid cyst. She was then referred to us for surgical management of the adnexal lesion. On examination, our patient was fidgety and restless with poor word output. There was no eye-to-eye contact during conversations. A mini mental status examination (MMSE) showed a score of 4 out of 30. She was not even able to walk or to write legibly. Our patient underwent a right oophorectomy under general anesthesia (Figure
1
). The tumor grossly measured 8.5 cm in the largest dimension (Figure
2
). On sectioning, sebaceous material and hair were seen (Figures
3
and
4
), suggesting an ovarian teratoma.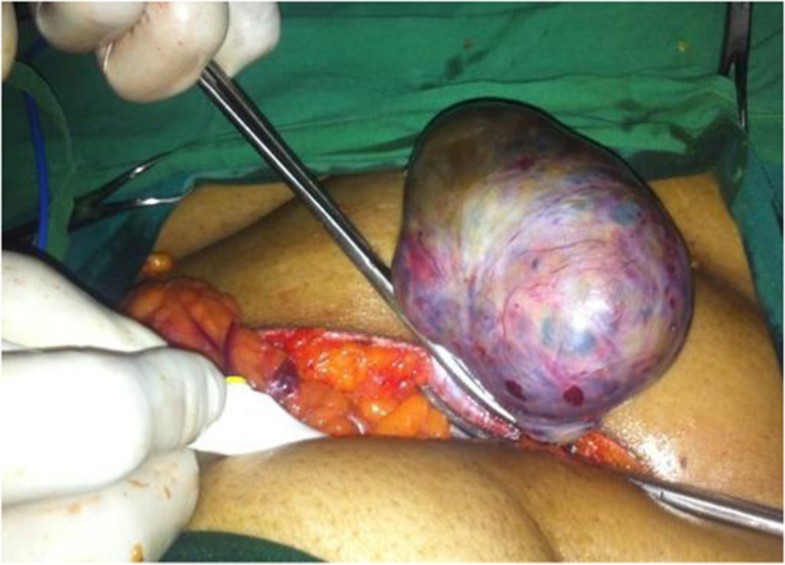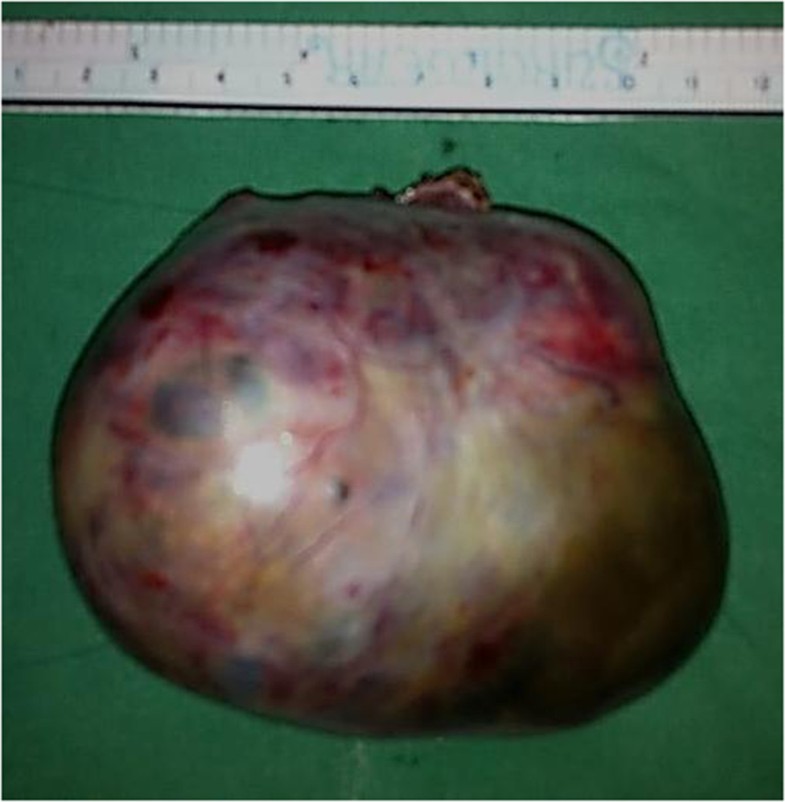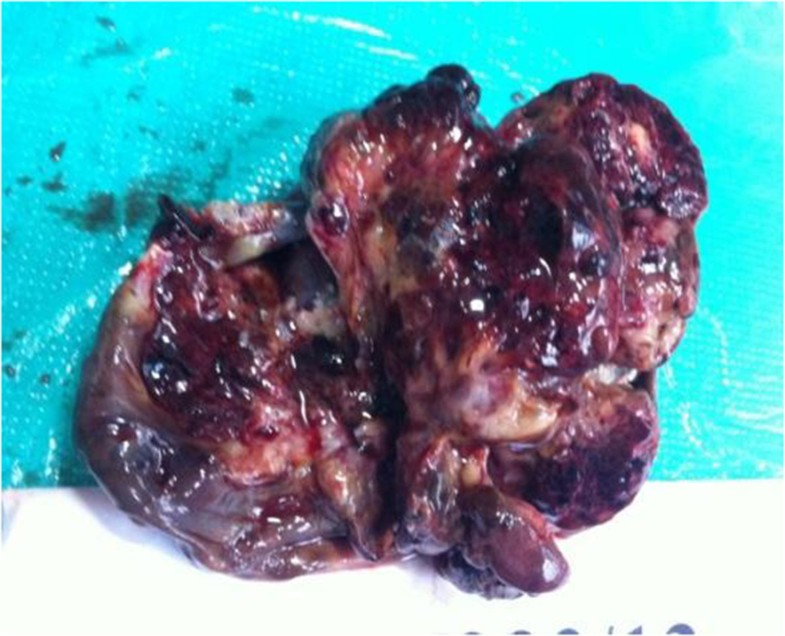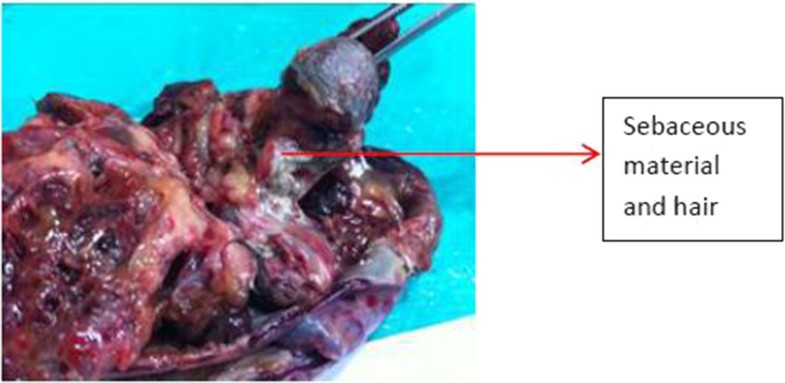 Post-operatively, our patient was on a ventilator for two days. Later she was transferred to ward and managed with anti-epileptics and steroids. By the end of the first week, she was able to talk with her family members and ask for food and water; by the 10th day, she was making eye-to-eye contact during conversations with good word output; by the 20th day, she was able to climb four flights of stairs and write legibly; by the end of one month, she was doing her household chores and office work; her MMSE score had improved to 26 out of 30.
Conclusions
A paraneoplastic syndrome with an ovarian tumor should always be in the differential diagnosis in a young woman with new-onset psychiatric symptoms. The clinical improvement in these patients is slow even after tumor excision. Early use of corticosteroids and IVIG may improve the outcome, and early tumor removal improves the prognosis.
Consent
Written informed consent was obtained from the patient for publication of this case report and any accompanying images. A copy of the written consent is available for review by the Editor-in-Chief of this journal.
Abbreviations
ANA:

anti-nuclear antibody
ANCA:

anti-nuclear cytoplasmic antibody
APLA:

anti-phospholipid antibody
CSF:

cerebrospinal fluid
EEG:

electroencephalogram
FLAIR:

fluid attenuated inversion recovery
HIV:

human immunodeficiency virus
IVIG:

intravenous immunoglobulin
IVIg:

Intravenous immunoglobulin
MRI:

magnetic resonance imaging
NMDA:

N-methyl D-aspartate
NMDAR:

NMDA receptor
PLE:

paraneoplastic limbic encephalitis
T2W:

T2 weighted images.
Authors' Affiliations
(1)
Department of Surgical Oncology, Anesthesia* and Critical Care, HCG Bangalore Institute of Oncology, Bangalore, India
Copyright
© Kattepur et al.; licensee BioMed Central Ltd. 2014
This article is published under license to BioMed Central Ltd. This is an Open Access article distributed under the terms of the Creative Commons Attribution License (http://creativecommons.org/licenses/by/2.0), which permits unrestricted use, distribution, and reproduction in any medium, provided the original work is properly credited. The Creative Commons Public Domain Dedication waiver (http://creativecommons.org/publicdomain/zero/1.0/) applies to the data made available in this article, unless otherwise stated.