Breast-conserving surgery is contraindicated for recurrent giant multifocal phyllodes tumours of breast
World Journal of Surgical Oncology
2014
12:213
Received: 26 November 2013
Accepted: 4 July 2014
Published: 15 July 2014
Abstract
Background
The controversy between breast conserving surgery and simple mastectomy for phyllodes tumours of the breast remains because of the unpredictable nature of the disease. Although some benign tumours may show an unusually aggressive behaviour, modified radical surgery for phyllodes tumours offers no survival advantage, and recently more conservative surgical approaches have been deployed.
Case presentation
A 30-year-old woman with a giant multifocal tumour of the breast underwent breast-conserving surgery that made use of the well- circumscribed feature of the tumour. The case demonstrates the safety, and cosmetic benefit of the breast-conserving approach for multifocal phyllodes tumours except for the high recurrence rate.
Conclusions
Large size, multifocality, and borderline or malignant histology are contraindications for breast-conserving surgery.
Keywords
Breast-conservingGiant cytosarcoma phyllodesSimple mastectomy
Background
Phyllodes tumours of the breast are rare and account for less than 1% of breast tumours [1]. Malignant transformation of a phyllodes tumour is a rare form of breast cancer accounting for just 0.5% of all breast cancers [1, 2]. Phyllodes tumours are fibroepithelial tumours composed of a benign epithelial component and a more numerous cellular spindle cell stroma forming characteristic broad -"leaf-like"- (phullon) papillae inserted into cleft-like epithelial spaces. The hypercellular stroma is the neoplastic component [3]. The median size of phyllodes tumour is around 4 cm. Twenty percent of tumours grow larger than 10 cm- the arbitrary cut-off point for designation as a giant tumour [1–3]. Studies have shown no difference between breast- conserving surgery versus mastectomy in terms of metastases free-survival or overall survival despite the higher incidence of local recurrence that comes with breast-conserving surgery [4, 5]. Arguments for over- and under- treating these patients remain due to the difficulty of forming a clear diagnostic and therapeutic pathway in this highly variable disease. Wide excision with a clear surgical margin is the preferred therapy for phyllodes tumour. Re-excision is recommended in cases with a positive surgical margin and stromal overgrowth and malignancy [4]. The giant phyllodes presents with several unique management problems. A simple mastectomy is performed for giant phyllodes tumours (>10 cm), those that are multifocal, in cases of recurrence or in phyllodes of 'borderline' histology [5]. Breast-conserving surgery is traditionally avoided in large multifocal phyllodes because of the risk of inadequate local excision and associated high local recurrence [5–8]. We report a case of a recurrent, rapidly growing but clinically benign giant multifocal phyllodes tumour of the breast that was treated by breast-conserving surgery for better cosmesis.
Case presentation
A 30- year- old lactating mother was admitted electively for investigation of a recurrent rapidly growing mass in her right breast over a period of 11 months. The mass was initially noticed as a small painless lump in the upper, outer quadrant of her breast when she was five months pregnant. Results of a fine needle aspiration cytology suggested a fibroadenoma. An ultrasound examination revealed heterogeneous, hypoechogenic masses with cystic portions of 86 mm and 62 mm in diameter and two axillary lymph nodes of 17 mm and 15 mm but a definitive diagnosis could not be made. Her left breast was entirely unaffected. She breast- fed her current four- month- old baby from both breasts. Two years previously, she underwent the excision of a heterogeneous right-breast mass but no precise diagnosis was made as the operative specimen was not histologically examined.
Four months later she returned with a rapidly progressing local recurrence of phyllodes tumours in the same quadrants of the breast for which she underwent a simple mastectomy.
Discussion
Phyllodes tumours of breast are rare (2.1 per million) and usually benign. They are more common in Latin American (Hispanic) women [
7
]. On histology they are fibro-epithelial tumours similar to fibroadenomas except for the hypocellular stroma with few mitoses and a true capsule present in fibroadenoma [
3
]. They occur over a wide age range with a median age of 45 years, 20 years later than fibroadenoma. It has been postulated that stromal induction of phyllodes tumour can occur as a result of growth factor produced by the breast epithelium [
9
]. The presence of sex hormones in pregnancy may stimulate the growth of these tumours. Triple assessment by clinical, radiological and cytological or histopathological examination individually or in combination gives poor diagnostic accuracy for phyllodes tumours [
1
,
10
]. Macroscopically, small tumours usually resemble fibroadenomas but tumours can grow rapidly to over 20 cm in diameter [
2
]. Involvement of axillary nodes is rare in phyllodes tumour and axillary dissection is not indicated. However, axillary lymph node metastases occur in about 10% of patients with malignant phyllodes [
2
]. The two small impalpable axillary lymph nodes identified by ultrasound were probably reactive. Needle core biopsy rarely produces a definite pre-operative diagnosis because this tumour shares many cytological features with fibroadenoma. One series showed a pre-operative diagnosis of phyllodes tumour in only 10% to 20% of cases [
11
]. Large tumours often have a fleshy appearance with cystic and necrotic areas (Figure
5
) [
2
]. Microscopically, epithelioid-lined cystic spaces with hypercellular stroma confirms the diagnosis. An equivocal diagnosis of phyllodes tumour should not prevent excision if clinical suspicion remains [
12
].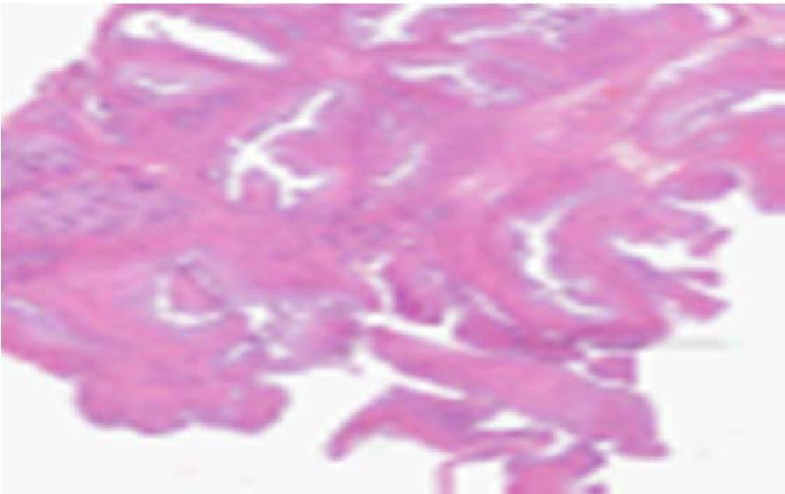 Wide tumourectomy is the mainstay of treatment and the high recurrence rate of 37% in one series justifies wide margin excision [13]. Local recurrence rates are correlated with positive excision margins. [11] Although mastectomy has invariably been performed for larger tumours, to date, there is no correlation between tumour size and risk of local recurrence. Other studies have shown a higher risk of local recurrence in borderline and malignant tumours [1, 5]. By contrast patients treated with mastectomy (subcutaneous, simple, modified-radical) showed no evidence of local recurrence [14]. Local recurrence usually occurs within the first few years of surgery and histologically resembles the original tumour [12]. The recurrences in our patient may have been due to incomplete excisions as recurrence occurred in the same quadrants of the breast. Thus intra-operative ultrasound may be more useful than palpation in detecting the phyllodes tumours. Patients with giant phyllodes may have clinically enlarged axillary lymph nodes that may be suspicious for metastatic disease. The surgeon may be forced to proceed with axillary lymph node dissection especially as sentinel lymph node biopsy may not be accurate in these patients [5]. The controversy between breast-conserving surgery and mastectomy remains because of the unpredictable nature of the disease. Contraindications for breast- conserving surgery include large tumours, multifocality, borderline histology and malignancy because of their greater risk of recurrence. However, local recurrence can always be managed by further wide excision if there is no evidence of borderline pathology or malignancy [1, 2, 12]. Histological type is the most important predictor for metastatic spread, although it may not correlate with clinical behaviour because both malignant and borderline tumours are capable of metastasizing. The five year survival for benign, borderline or malignant tumours is 96%, 74% and 66% respectively [15]. Tumour size is an important factor in predicting metastatic spread. This may correlate with the necrotic elements in large tumours and the fact that tumour necrosis is a histological prognostic factor albeit of a small effect on its own [16]. The risk of incomplete excision and the size of the tumour in relation to the breast is an onco-plastic reason why mastectomy should be performed for large tumours. A clear surgical margin is the only proven protective factor [1, 2].
There is no contraindication to immediate reconstruction after mastectomy in cases of giant phyllodes tumours [17]. Malignant phyllodes tumours are best managed with wide excision of normal breast tissue around the tumour to obtain a 1 cm margin of normal- appearing breast tissue, but very large malignant phyllodes tumours require mastectomy [6]. With malignant tumours, 22% may give rise to haematogenous metastasis most frequently to the lungs. The role of adjuvant therapies (radiotherapy and chemotherapy) is presently undefined and should be tested in multicentre, prospective, randomized trials [18].
Conclusions
This case highlights the arguments for and against the treatment of phyllodes tumour of the breast by breast-conserving surgery. Breast-conserving surgery (wide tumourectomy) may suffice for phyllodes tumour as it has the advantage of cosmesis in a relatively benign disease. It is not ideal for giant, multifocal phyllodes and phyllodes of borderline or malignant pathology. Close follow-up is required for detecting and treating local recurrence following breast- conserving surgery.
Consent
Written informed consent was obtained from the patient for publication of this case report. A copy of this written consent is available for review by the Editor-in-Chief of this journal.
Authors' Affiliations
(1)
Department of Surgery, Faculty of Health Sciences, University of Buea, Limbe, S.W. Region, Cameroon
(2)
Department of Pathology, Regional Hospital Buea, Limbe, Cameroon
Copyright
© Weledji et al.; licensee BioMed Central Ltd. 2014
This article is published under license to BioMed Central Ltd. This is an Open Access article distributed under the terms of the Creative Commons Attribution License (http://creativecommons.org/licenses/by/2.0), which permits unrestricted use, distribution, and reproduction in any medium, provided the original work is properly credited. The Creative Commons Public Domain Dedication waiver (http://creativecommons.org/publicdomain/zero/1.0/) applies to the data made available in this article, unless otherwise stated.